This slot is about Attila the Hun and his fearsome warriors. Examples of symbols that can appear on the reels are the archers, the riding Hun, the fighting Hun, the crossed axes, the bow with its arrows, a battle at sunset, and the face of Attila himself.
The Tartars proper has been the home of several magnificent empires, including the one ruled by Attila and the Huns, the one of Zingis and his Moguls, and the one of Timour and his Mahomentan Tartars.
Attila the Hun lived from circa 406 to 453 AD, and ruled the Huns from 434 until his death. He was also the leader of an empire in Central and Eastern Europe forged by several tribal peoples, including the Huns, the Alans, and the Ostrogoths.
You can play the slot Attila in a few online casinos.  It is a rare casino game but you can find it if you want to.  The game is available in Redbox, Slottica, All right casino and Unibet casino.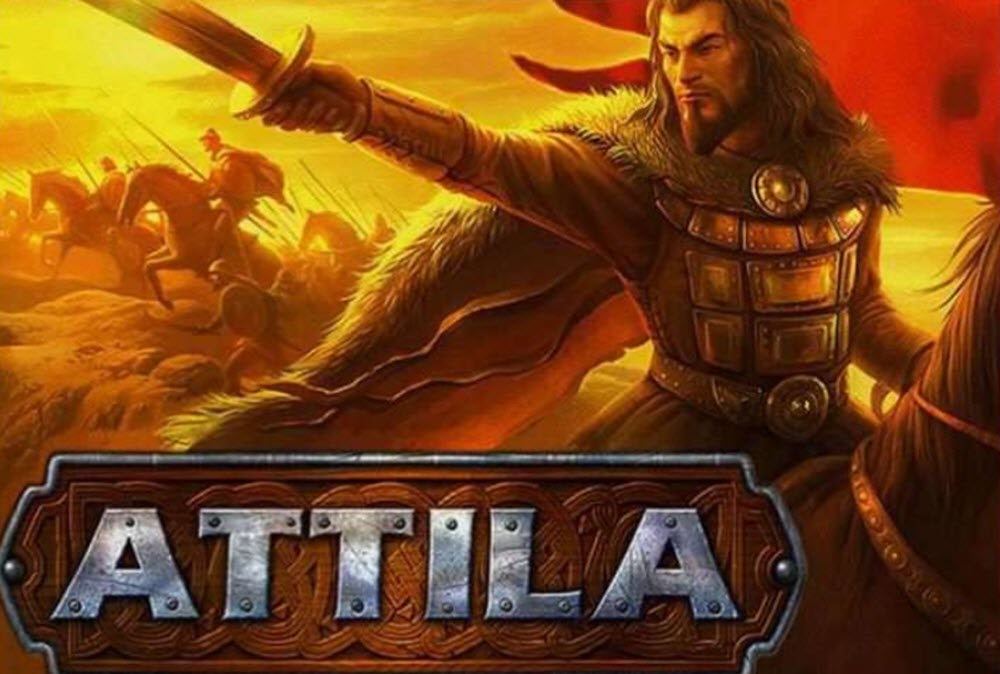 Environment
The reels are set on the Central Asian steppe, where the Huns are fighting their enemies.
Reels
This game has 5 reels.
Paylines
There are 9 paylines.
Wagering
The betting range is 1 coin – 900 coins per round.
Scatter symbol & free spins
The battle at sunset is a scatter symbol.
If you get at least 3 scatters, anywhere on the reels, you will be awarded with free spins.
It is possible to trigger new free spins during free spins.
Wild symbol
The face of Attila is a wild symbol in this game. It can substitute for any of the regular symbols, but not for the scatter.
This symbol can also pay out wins in its own right, and a nice little jackpot is paid for getting five wilds on a payline.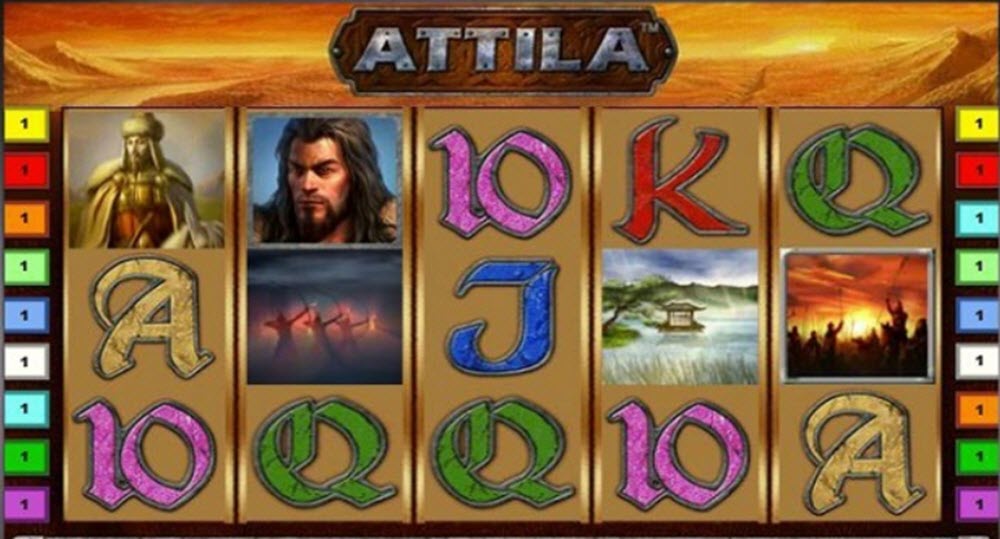 About Atilla the Hun
Attila the Hun (c.406-453 AD) was the ruler of the Huns, and also the leader of a tribal empire consiting of several allied peoples, including the Huns, the Alans, and the Ostrogoths.
The Huns were a people of Eurasian pastoral nomads who gradually migrated from east of the Volga to Western Europe. They became famous for their skill in battle, including mounted archery and the throwing of javelins.
Under Atilla's leadership, the Huns successfully plundered the Balkans, but failed to take Constantinople and Persia. In 441 AD, they invaded parts of the Byzantine Empire, and then eventually continued into Western Europe. The Huns crossed the Rhine in 451, and reached as far as Centre-Val de Loire region before being stopped through the Battle of Maurica, where the Huns and their allies were defeated by a coalition of Romans and Visigoths. In the following year, Atilla and the Huns plundered parts of the Italian peninsula, before heading back to the other side of the Danube. Attila planned to make a new attempt at attacking Constantinople, but died in 453, before carrying out his intent.