This slot machine is a tribute to Mongolia, the most sparsely populated sovereign state in the world. The main characters of this game are a Mongolian couple who keeps many horses on the steppe of Central Asia. The man is the most high-paying symbol, and the woman is a scatter. Several of their horses can also show up on the reels.
The Mongol Empire, which originated in Mongolia, was the world's largest contiguous land empire in history during it's height in the 13th and 14th centuries AD. It reached from the Sea of Japan in the east, to the Levant and the Carpathian Mountains, through Eastern Europe, and into parts of Central Europe. Northwards, it went into Siberia, and southwards it included places such as the Iranian plateu, parts of the Indian subcontinent, and Indochina.
The Mongol invasion of Europe took place over the course of three centuries, starting in the 1220s as the Mongol Golden Horde – also known as the Mongol-Tatar Golden Horde – invaded Volga Bulgaria and Kievan Rus. In European texts, the term Tatars or Tartars were commonly used for several Central Asian nomadic peoples who had been conqured by the Mongols and incorporated into their horde.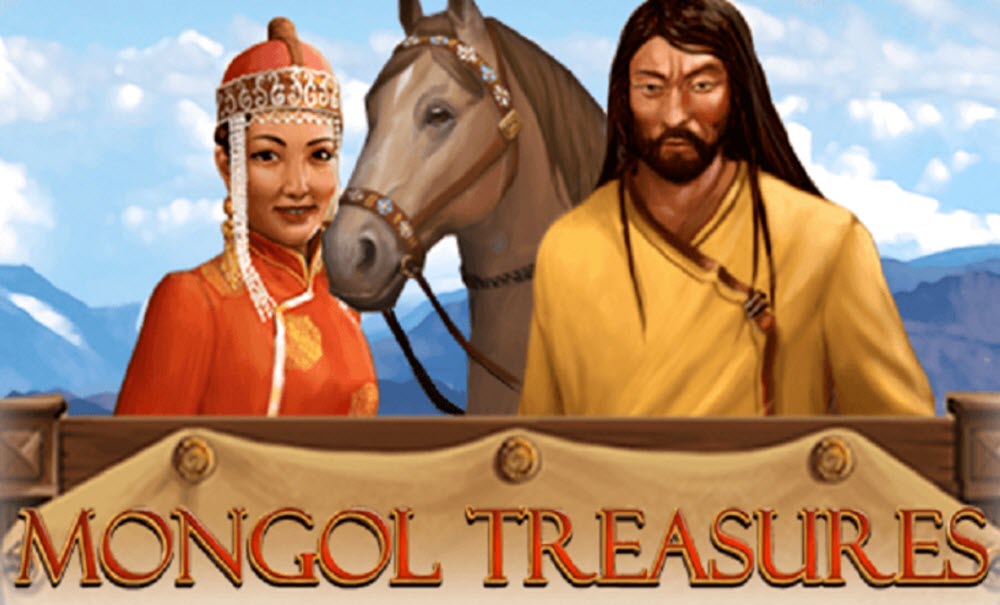 Game developer
This slot game was created by Endorphina.
Release
Mongol Treasures was released in early 2015.
Devices
The slot game Mongol Treasures is available for both desktop play and play on mobile devices.
Reels
This game has 5 reels.
Paylines
There are 10 paylines. You decide how many of them to activate when you make your wager.
Wagering
Minimum coin size: 0.01
Maximum coin size: 1.00
Largest possible bet 100 coins x 10 paylines = 1,000 coins per round.
Autoplay
Autoplay is available.
The powerful woman
The Mongolian woman is both wild symbol and scatter symbol in this game, which is quite the unsual set up for a slot.
You need three scatter symbols to activate the free spins round and be awarded with 10 free spins. During the free spins, a symbol is randomly selected to be an expanding symbol. It can expand to three positions, making it easier to win something.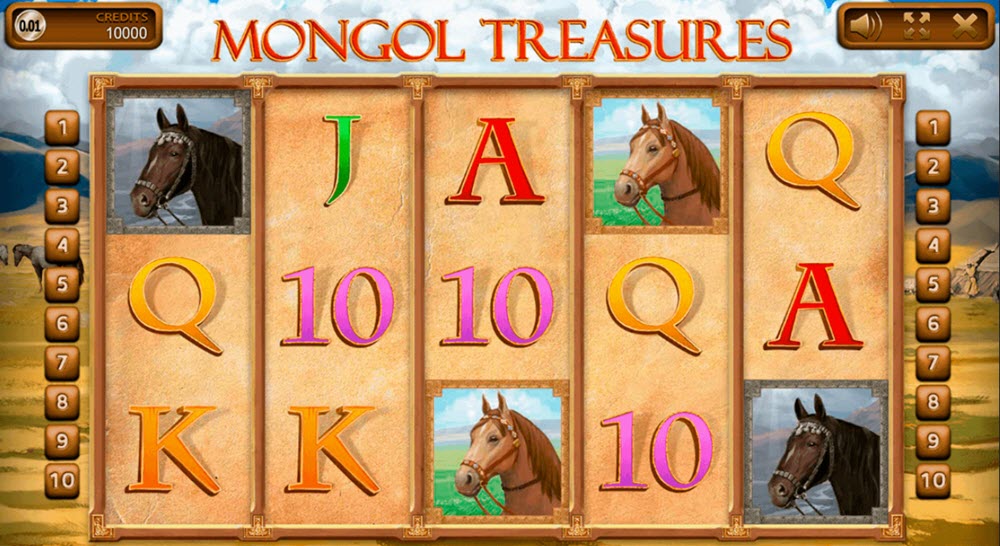 Gamble feature
When you win something, you can elect to risk it in a game of double-or-nothing.
Jackpot
The largest individual win is 5,000 coins. You need five Mongolian men in a row on a payline to win this.
RTP
The RTP for this slot is 96.00 percent.